ART COMPETITION Brighten up your Easter break and create some art! STAY AT HOME, TAKE YOUR MIND FOR A WALKTheme: SPRINGThe work must be created since lockdownThe painting or drawing can be based on something real, remembered, or dreamt. Pen, pencil, acrylic, oils, watercolour... the choice is yours!EntryPhoto of your artwork, email to art@kittynorth.comYou can also upload to Instagram/Facebook/Twitter. Please tag @KittyNorthArtist and use the hashtag #StayAtHomeTakeYourMindForAWalk Be sure to tell us who you are and where you're from! For any young talent taking part, we'd love to know how old you are. Feel free to send us snaps or footage of your works-in-progress! Entries...
---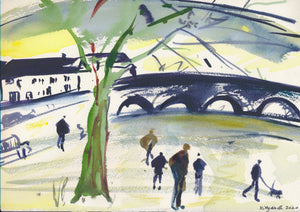 A selection of brand new Yorkshire Dales watercolours 
can be viewed on the gallery page
---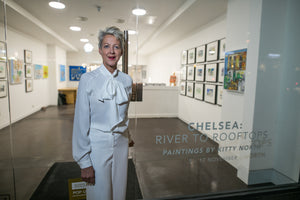 Our pop-up gallery on the King's Road for "Chelsea: River to Rooftops" was a great success. A massive thank you to everyone who came along and supported!
---
Kitty has spent the last 18 months painting and sketching by the river, in cafes, on the streets of Chelsea, capturing the landscape, architecture, and - perhaps most importantly - life. This exciting new collection, includes impressive 6-foot canvases with eye-poppingly bright acrylic paint, to en plein air watercolours, taking in the landmarks of Chelsea Old Church, the Albert Bridge and the Royal Hospital Chelsea, as well as Chelsea homes and streets.  Kitty says: "My own Chelsea tale began in the early 80s when I lived in Tite Street and studied at Chelsea School of Art. At 17, I was dizzy...
---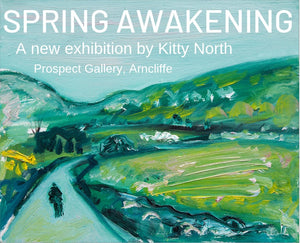 2019 has been a very inspiring year so far. Kitty spent several weeks at the start of the year painting in Chelsea, London, energised by the buzz of the city and the magnificent structure that is the Albert Bridge. This resulted in dozens of watercolours that beautifully capture the spirit of the the place, as well as the people who spend their days there.   Upon returning to Yorkshire after a stint in the big smoke, Kitty's renewed sense of vigor was fuelled even further by the change of the seasons. At this time of year the Dale is brimming...